Memory...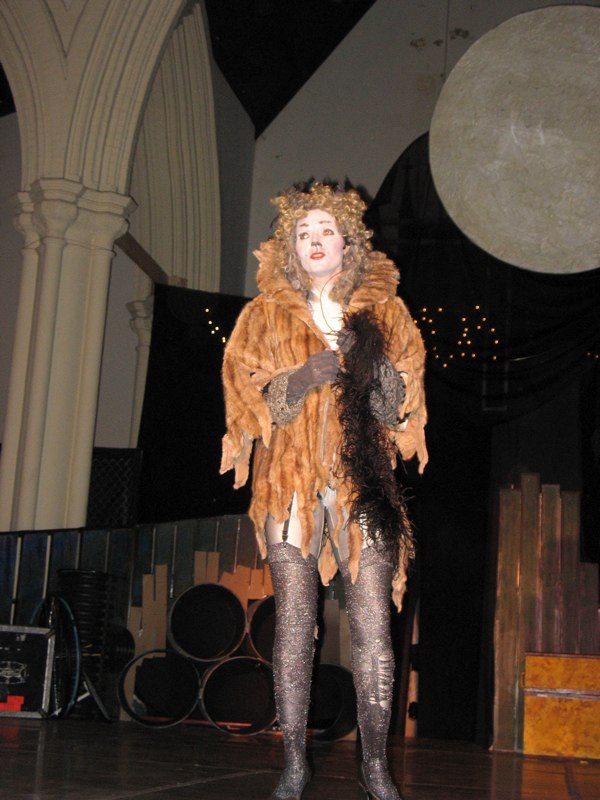 "Up, up, up past the Jellicle Moon! Up, up, up, up to the Heavyside Layer!" -Cast


---
Excerpts from Sermon Delivered by Jesse Milan, Jr., Memorial Episcopal Church, Sunday, April 22, 2007

<![if !supportEmptyParas]> <![endif]>

This weekend Memorial Players mounts its sixth production, and it is bigger than ever. Under the direction of Cyndie Eberhardt, we have the largest cast we have ever had, the most fabulous set, a new music director and a newly built stage, and choreography by moi. It has been an amazing experience and it is an amazing ministry to our congregation, to the neighborhood and even to the region, with cast members, volunteers, and professionals from counties across this area.

<![if !supportEmptyParas]> <![endif]>
---
<![if !supportEmptyParas]> <![endif]>
Excerpt from Mother Martha's Monday Meditation May 7, 2007
<![if !supportEmptyParas]> <![endif]>
For me, this Eastertide at Memorial has been one of continual joy and energy. The atmosphere at the Easter Day service at 10:30 literally vibrated with the Holy Spirit as we joyfully celebrated the resurrection of our Lord. Easter joy continued that very evening after Compline when over 30 folks showed up to put up the stage for the musical. Eastertide joy blossomed in our musical CATS. From the enthusiasm of the set construction through the tiring yet exciting last week of rehearsals when sound system, lights, costumes, grease paint, and orchestra arrived, we were all buzzing with a natural Easter high (well, maybe some caffeine too). Each performance, as the cast turned their eyes and hands to the Jellicle Moon as Grisabella the Glamour cat went up to the Heavyside Layer—up that ladder in high heels no less!—the power of new life overwhelmed us all. This Eastertide I have been struck with such abundant, overflowing joy in my own heart and in the heart of this wondrous Memorial community.
<![if !supportEmptyParas]> <![endif]>
The Rev. Martha N. Macgill, Rector, Memorial Episcopal Church
---
<![if !supportEmptyParas]> <![endif]>

In the spring of 2001, a group of brave actors and actresses gathered Palm Sunday evening to sing a few songs from the musical "Jesus Christ Superstar." About the same time, the Worship Committee began to dream about a new configuration of our altar area and worship space. Five musicals and a Lent without pews later, we have a movable stage built over our altar rail. Today we worshipped as we did in Lent 2003 (but with pews and no chairs this time) and we are ready to showcase a musical with the largest cast we've had to date. We are waiting with baited breath for our renovations to begin—so that we can more fully use all our space at Memorial . . . we are trying to do what Memorial has always done. To press forward and believe in what is yet unseen. And, just like Easter morning, one day, we look up and the unseen becomes real. The faith of the community brings Jesus' reality of hope and resurrection to us.
---
<![if !supportEmptyParas]> <![endif]>
Sitting, Part 2 May 2007
<![if !supportEmptyParas]> <![endif]>
Since beginning my new full-time job last March as Lay Associate here at Memorial, the word "church" has taken on a whole new, different twist for me. Before March, "church" was where I went every Sunday to worship, be spiritually fed, and enjoy Christian fellowship at Coffee Hour. I never knew exactly how much work—how much love and labor, of countless individuals—go into making a church work. I never knew all the moving--and sometimes immovable!--parts! (Case in point: the piece of duct tape that is stuck high on the first stained glass window on the left, as you enter our sanctuary, despite Cory Wilchek's heroic 3:00 am attempt after the final CATS! performance, to scrape it off (with Jesse Milan standing beneath him, to catch him, if he fell). Why the determination, you ask? Well, for one thing, a wedding was to be held in the sanctuary the following week! But shhhhhhhhhhhh, I don't think anyone noticed.) I never knew that theater could be such a joyous offering and sacrifice to God.
<![if !supportEmptyParas]> <![endif]>
The Body of Christ is definitely NOT just something we receive at the altar rail every Sunday. The Body of Christ is alive, and breathing, and living today...here...in you...and in me. The Body of Christ puts out bulletins, week after week. The Body of Christ feeds hungry and lonely people, week after week. The Body of Christ rings our church doorbell, day after day, needing food and words of comfort. The Body of Christ shows up at the office door, just to stop by and say hello. The Body of Christ stays in the sanctuary until crazy hours in the morning, to build sets and take down stages. Thank you, Memorial, for being a living and breathing example of the Body of Christ in our modern, and often crazy, world.
<![if !supportEmptyParas]> <![endif]>
Cristina Paglinauan, Lay Associate, Memorial Episcopal Church
May 2007 MEMORIAL MEMOS--The Newsletter of Memorial Episcopal Church